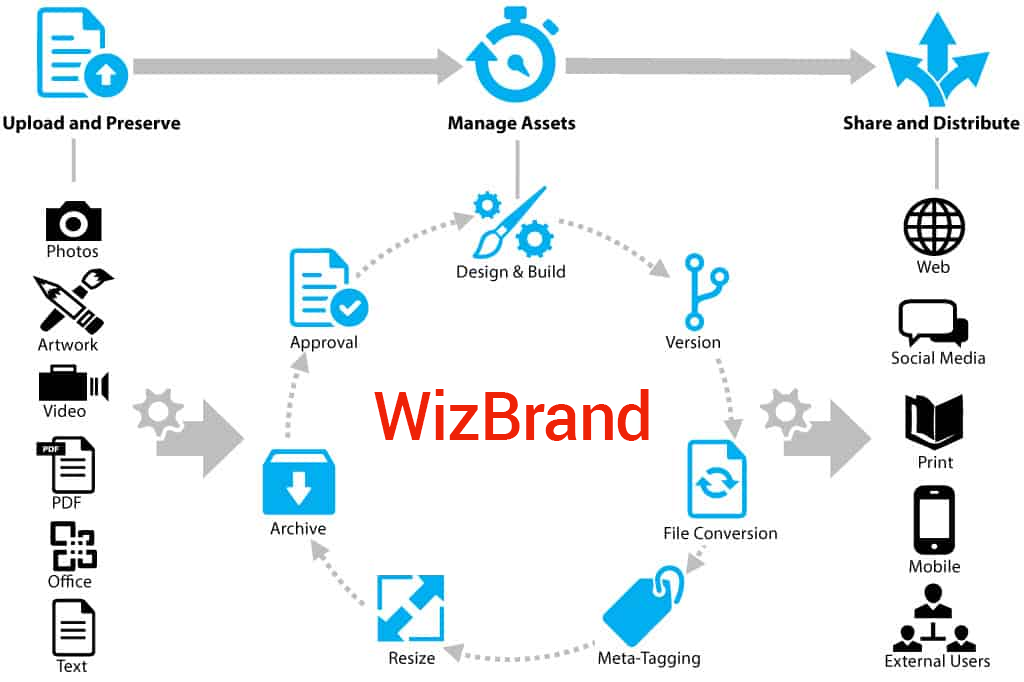 Digital asset management (DAM) software is a solution that helps organizations store, organize, manage, and share digital assets, such as images, videos, audio files, documents, and presentations. DAM systems provide a centralized repository for digital assets, making it easy to find and use the right assets for the job.
DAM software is used by a wide range of organizations, including businesses, government agencies, educational institutions, and non-profit organizations. DAM can be used to support a variety of tasks, such as:
Marketing and advertising: DAM systems can be used to store and manage marketing assets, such as product images, social media graphics, and video ads.
Sales and customer support: DAM systems can be used to store and share sales collateral, customer support documentation, and training materials.
Product development: DAM systems can be used to store and manage product documentation, design files, and engineering drawings.
Public relations: DAM systems can be used to store and share press releases, media kits, and high-resolution photos.
Digital Asset Management
Features of digital assets management websites
Digital asset management (DAM) websites are software applications that help organizations store, manage, and share their digital assets. DAM websites offer a variety of features, including:
Centralized storage: DAM websites provide a central location to store all of an organization's digital assets, such as images, videos, documents, and audio files. This makes it easy to find and access assets when needed.
Asset organization: DAM websites help users to organize their digital assets into folders, collections, and other categories. This makes it easy to find and manage specific assets.
Metadata management: DAM websites allow users to add metadata to their digital assets. This metadata can include information such as the file name, creation date, file size, and copyright information. Metadata can be used to search for and filter assets.
Collaboration and sharing: DAM websites make it easy to collaborate on and share digital assets with others. Users can create and manage access permissions to specific assets or collections. DAM websites also often offer features such as version control and asset tracking.
Security: DAM websites offer a variety of security features to protect digital assets from unauthorized access. This may include features such as user authentication, encryption, and access logging.
List Top Digital Asset Management Websites
Top Digital Asset Management Websites:
WizBrand: Renowned as a leading platform for Digital Asset Management software, WizBrand facilitates organizational creation, project allocation, and URL assignment for collaborative work. It boasts a multitude of features and ensures robust security through 128-Bit SSL encryption.
Acquia DAM (formerly Widen Collective): Positioned as an advantageous solution for marketing and creative teams, Acquia DAM serves as a centralized repository for rich media files. Its cloud-based architecture, load balancers, and microservices enable teams to easily scale according to their requirements.
Brandfolder: Operating on a cloud-first system, Brandfolder serves as a unified hub for marketing teams, offering a singular source for digital assets. It enables seamless internal and external asset sharing, aiding marketers in organization, manipulation, distribution, and analysis of digital assets.
Bynder: Bynder, a cloud-native DAM platform, provides subscription-based services aimed at creative and marketing teams across advertising agencies, small marketing groups, and large enterprises. Its focus lies in fostering collaboration in the cloud, enabling quick production of rich media, and efficient delivery of assets to marketing channels.
Integration with Preferred Tools: Showcase your preferred tools within the integrated user section, empowering users to leverage these tools and offer valuable feedback based on their experiences.
SEO TOOLS:
SOCIAL TOOLS:
PDF TOOLS:
IMAGE TOOLS:
TEXT PROCESSING TOOLS: